Lionel has made several new changes to the 2018 Diecast lineup.
Action Racing Collectables (Collector Series) 1:24 Diecast
Lionel will now be offering an all new ARC Collector Series version with updated tooling for the 2018 NASCAR Cup Series cars. This includes the 2018 Chevrolet Camaro ZL1, 2018 Ford Fusion and 2018 Toyota Camry. The biggest change for 2018 is that the trunk will not open, but the price will be less $54.99.

Action Elite 1:24 Diecast
In addition to the New ARC Collector Series we will now be offering all cars in the Action Elite version, at a lower price of $84.99.

Action Racing Collectables 1:64 Diecast
1:64 cars will remain the same for 2018 with a $7.99 price.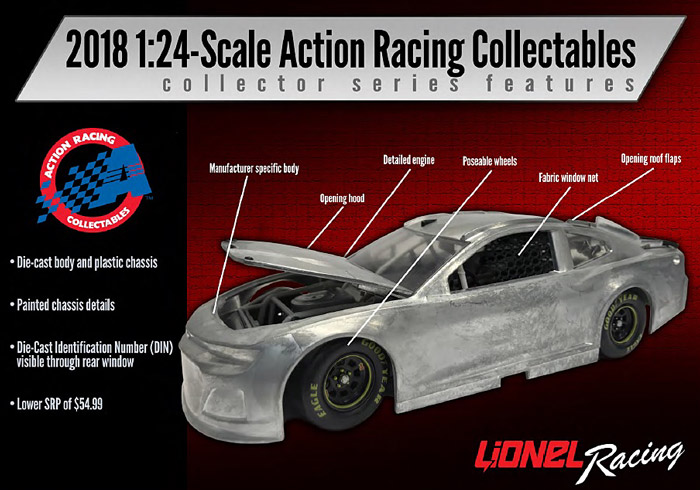 2018 1:24-Scale Action Racing Collectables (ARC) Collector Series Diecast
- Diecast body - Plastic chassis - Manufacturer-specific body contour - Opening hood - Closed trunk
- Opening roof flaps - Poseable wheels (not linked to steering mechanism) - Detailed engine
- Fabric window net - Painted chassis details - Fully decorated - Officially licensed by NASCAR
- Diecast Identification Number (DIN) visible through rear window
- Packaged in ARC and driver-branded fully decorated window box
- MSRP of $54.99

2018 1:24-Scale Action RCCA ELITE Diecast
- Die-cast body - Die-cast chassis - Manufacturer-specific body contour - Opening hood - Opening trunk
- Opening roof flaps - Poseable wheels (not linked to steering mechanism) - Upgraded engine detail
- Interior trunk detail - Fabric window net - Driver side mirror - Painted antennas - Fully decorated
- Diecast Identification Number (DIN) visible through rear window
- Last 5 digits of the DIN number printed on chassis - Officially licensed by NASCAR
- Packaged in RCCA ELITE-branded closed/sky box
- MSRP of $84.99